AAF Presents Summit LNK 2016
Hosted by Nonprofit Hub and Fuse Coworking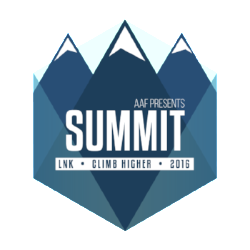 Thursday November 10, 2016
To help develop the next generation of professional talent, AAF Lincoln hosts an annual Ad Camp, welcoming students from across the state for a daylong event. With a full lineup of presentations, panels, networking opportunities and agency visits, Ad Camp offers something for students interested in any area of marketing or advertising.

Includes:
At Ad Camp, you can explore where you are and where you're headed. It's when the big dogs come to you, eager to tell stories and show you how things are done. You'll even get an inside peak of where the magic happens. You'll have a chance to network, ask questions, take tours and even get some goodies just for coming!
Organized by AAF-Lincoln, Ad Camp is an annual one-day workshop for students considering entering the advertising industry. Throughout the day, you will be treated to relevant keynote speakers, discussion sessions and agency tours. Most importantly, the agenda includes time with area professionals who are eager to answer your questions. Spots fill quickly.
Ad Camp is open to students in advertising, marketing, graphic design, public relations, communications, film, or related fields. All of these students, freshman to senior (even super-duper-senior), are invited. And, it doesn't matter which college or university you attend - at this event, the more, the merrier.
For more information, visit summitlnk.org.