AAF's Rockin' 2018 Kickoff - A Conversation about Collaboration with Spencer Munson and Natalie Micale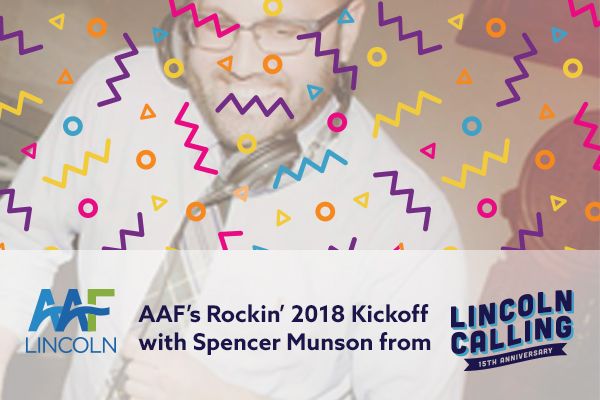 AAF's back for another rockstar year, with our tour headliner this year being Spencer Munson and Evol Empire. Spencer is the face behind Jazz in June, Lincoln Calling, Lincoln Exposed and a handful of other awesome community events. Stop by 1867 on Thursday, Sept. 6th at 5 p.m. learn how they organize and promote these events, or maybe just suggest a headliner for next year's 'fest.
Where
1867 Bar
101 N 14th (1.31 mi)
Lincoln, Nebraska 68508
When
Thursday, Sept. 6
5:00 -6:00 pm 
Tickets
FREE for AAF Members
FREE for Non-AAF Members
FREE for Students
 
Lincoln Calling is an annual, non-profit music festival focusing on emerging artists and occurring across multiple indoor/outdoor venues in downtown Lincoln, Neb. Lincoln Calling is a week filled with amazing music and local artisans surrounded by community and professional development. Over the course of one week in the fall, Lincoln Calling draws thousands of concertgoers from around the country to catch more than 100 emerging bands in Downtown Lincoln.
This form stopped accepting submissions on September 6, 2018 5:00 pm CDT.
1867 Bar

Evol Empire