The 2013 Silver Medal Award winner
Amy Struthers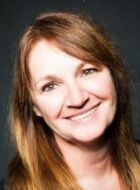 As an Associate Professor of Advertising and Public Relations in the UNL College of Journalism and Mass Communications (CoJMC), Amy Struthers has spent the last decade extending learning and education far beyond the classroom.
For nine years, Struthers served as adviser to a vibrant student chapter of the American Advertising Federation and UNL Ad Club. She founded UNL's student team for the National Student Advertising Competition, which is now an established leader at both district and national levels. She currently serves on AAF's National Education Executive Committee.
As the faculty founder of Jacht Club, UNL's student advertising agency, Amy has opened a dynamic real-world learning experience for UNL advertising students. Launched with support by investment firm Nebraska Global, Jacht is now partnered with Bailey Lauerman and Swanson Russell with a goal to provide all local agencies access to a pipeline of top talent that's ready for the workplace.
Amy has worked to create other special opportunities for students to learn and practice skills needed in the advertising and public relations industries, such as leading a team that created the Nebraska Chamber of Commerce 100th anniversary publication in 2012, and spearheading student promotion and coverage of the U.S. Special Olympics National Games in 2010. For the past eight years, she has organized a trip for students to the Advertising Women of New York's annual Career Conference in November, featuring two days of visiting agencies and meeting alums prior to the conference.
Struthers received UNL's top teaching award in 2011, the College Distinguished Teaching Award, and has won the UNL Parents Association's Certificate of Recognition for Contributions to Students for six years. She was recognized by the American Advertising Federation with a Most Promising Minority Student Nominator award in 2010, was named a UNL Global Gateway Fellow in 2010 involving a trip to China with students, was selected as a scholar in the Advertising Educational Foundation's Visiting Professor Program in 2006 (posted at McCann Erickson New York) and received the college's Outstanding Faculty Service Award in 2005.