2015 Ad Pro of the Year
Jeff Deans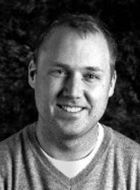 Congratulations to Jeff Deans, the 2015 Ad Pro of the Year.  The Ad Pro of the Year award recognizes one individual that brings unmatched value to AAF Lincoln and the Lincoln marketing community, contributing extraordinary work both on- and off-the-clock. The award is given to someone who has been in the advertising industry for more than five years.
Jeff's leadership and insight has been an incredible asset to our group, specifically to the board.  Implementing new event ideas and enhancing member benefits are just a sample of the contributions Jeff Deans has made to AAF-L.  He has been a member of AAF Lincoln since 2009.  He served on the board as ADDYs chair for two years, joined the executive board and was president during the 2012-2013 session. 
In addition to his years of service to AAF, Jeff is a writer/producer with Swanson Russell, Adjunct Instructor of Communication Studies, Advertising at Nebraska Wesleyan, and likes to keep things moving!